This article is about how domain pricing on the Rebrandly "Domains" page works.
Rebrandly is its own domain seller. This makes it easy to get started sharing your custom domain name with your branded links. Branding links with all other URL shortening services require you to register a new domain on a third party domain seller service, such as GoDaddy.
When you search for your custom domain name on the Rebrandly Domains page, the results will show you which domains related to your search are available, as well as what they cost per year to own. For example, in the screenshot below, the domain "clickonthis.us" costs $12 per year. This price is locked in for the first year, and subject to change after one year. Any change in price is according to that domain's estimated value on the market.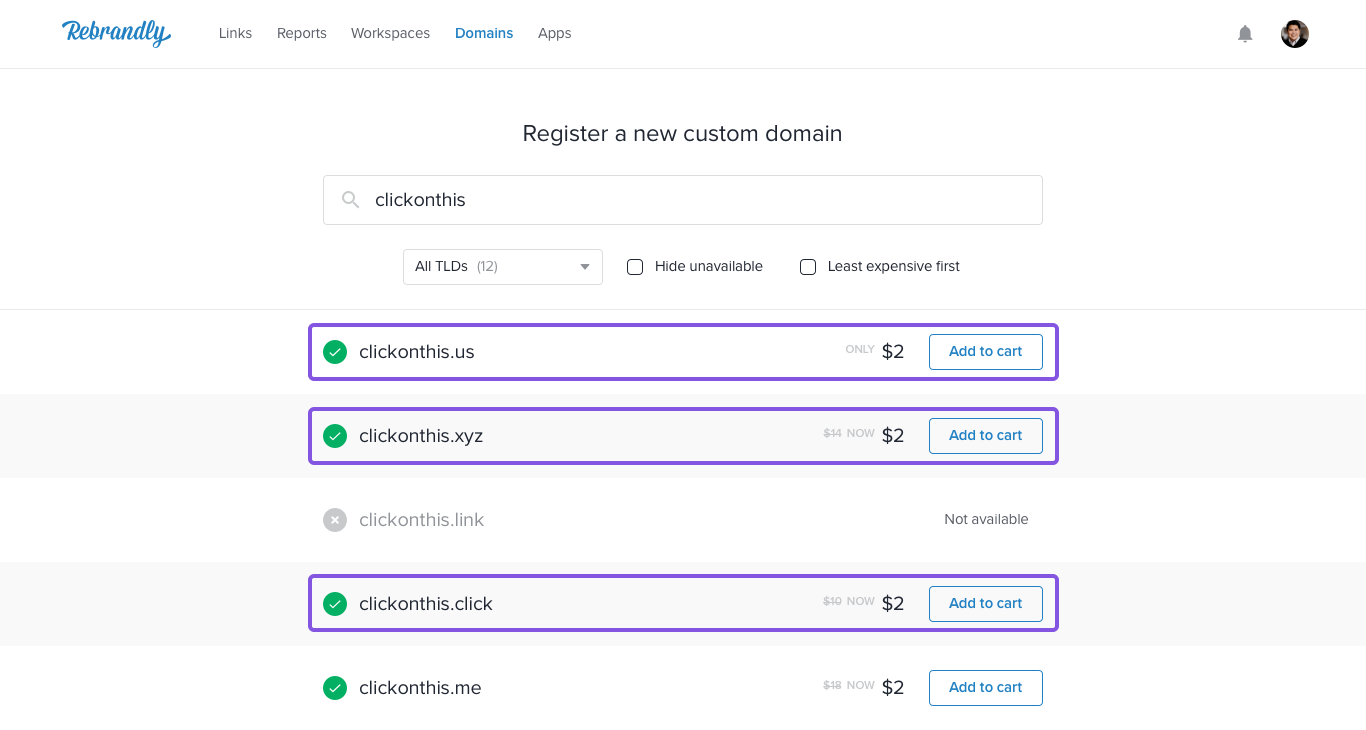 Purchasing a $2 Domain
In the same screenshot (above), you will also see the domains "clickonthis.xyz" and "clickonthis.click" which are both available for $2 for the first year. This is of course just an example and prices my change depending on the domain extension.
As you'll notice, there is a larger price tag to the left of the $2 price, which is crossed out. Those prices are what those domains would normally cost if you were to buy them directly from another domain registrar. We have partnerships with those domains (e.g. .live), so we are able to offer them to you at lower prices for the first year.
After one year, you will be automatically charged the full yearly price which is crossed out for the next year. For example, if you purchase "clickonthis.xyz" on September 1st 2016 for $2, you will be charged the full price of $14 on September 1st of 2017. Please note that for most of the domain names, if the auto-renew option is active you will be billed before the 12 months expiration, approximately 2 months before).
If you do not want Rebrandly to automatically renew your domain at the end of one year (or 10 months), you can go to the Domains tab, framed in red in the screenshot below, and click on the domain which you own and wish to renew manually.
Note: in the below screenshot, you will also notice that the "Expiration" status for the domain "vince415.link" is set to "Autorenew" and that the domain "craftly.link" is set to "in 9 months." This is because for the "craftly.link" domain, I have chosen to not auto renew that link at the end of the year.



After clicking on the domain, you can toggle the "Autorenew options" switch next to Auto renew (where the switch will be highlighted in green) by clicking on it and then selecting the red button "Turn off auto renew for this domain" and you will not automatically be billed at the end of the year. At the end of the year, you will be notified via email prior to your domain's expiration date with instructions on how to renew it, should you wish to do so.



IMPORTANT: Domains purchased via Rebrandly can ONLY be used to create branded short links. Can NOT be used to brand your emails, websites or blogs.
This is About:
Domain pricing
Understanding why some links are $2 for the first year, and then fully priced after the first year
How to turn off the default auto-renew option of your branded domain


See Also: