We put together a step by step guide for creating a retargeting link. But if you're not up and running with retargeting just yet, check out this blog post for more details: What is Link Retargeting?
This process requires a few things on your part:
1. You need to have a piece of curated content (it is not necessary to use retargeting links with your own blog content, because you can already retarget people from within the website.)
2. You need to have an advertising account that offers a website pixel - typically Facebook, Google, Twitter, LinkedIn, and a few others.
3. You should be running ads either now or in the future to this retargeting audience, that is the only value of adding this feature to your links.
To get started, check out this video, or follow the steps below:
Open up your Rebrandly dashboard or extension and paste in your URL, then click the "add options" and retargeting:

For Facebook Custom Audience Pixel:
Now you need to go grab your retargeting pixel code. For Facebook you go to your business manager account and navigate to All Tools -> Pixels (this link might work for you):
Then click "Actions" and "View Pixel" to see your code:
For Google Remarketing Pixel:
To get your remarketing tag code from Google, login to your AdWords account and go to Shared library -> Audiences -> Tag Details:
From here click "Setup" and "View AdWords tag for websites:"
And copy and paste this code into the Rebrandly retargeting script box, name it, and save it.
Save Your New Retargeting Pixel
Now you don't have to understand coding to get this done, just copy and paste your code script directly into your Rebrandly retargeting script box, and add a name: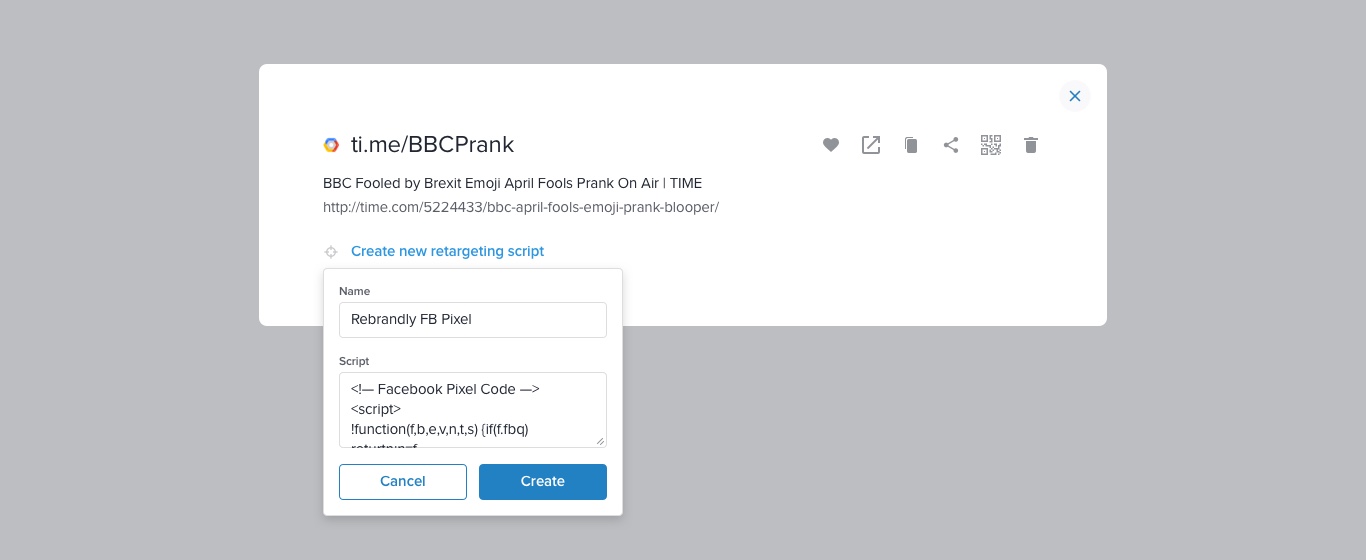 Create the retargeting code and the link and you are ready to roll.
From here simply share this link in any Tweet or message that you would like to send out and you will tag anyone that clicks it and automatically start serving them ads at a later time.
Useful to know:
Multiple pixels for the same links.
In case you need to add the visitor who clicks your link to multiple retargeting lists, (e.g.: Facebook, AdWords and AddRoll) is important to know you can add multiple pixels (up to 5) to any of your Rebrandly links.
Paid feature
Retargeting is a paid feature and is not available in all plans. Check out our pricing page here: Rebrandly.com/Pricing and get in touch with a member of our sales team if you'd like to discuss your use case to upgrade.
Retargeting & GDPR
We don't collect or store any data from users that click on links with retargeting enabled. Rebrandly fires a pixel on behalf of the platform that's being used for retargeting (eg. Facebook, Twitter, Criteo, Adroll etc..). That pixel is a javascript code that usually installs a cookie on the visitor's browser. No information about the user is being passed to Rebrandly after the pixel is fired and the cookie is not installed by Rebrandly but by the original retargeting platform itself.
This article is about:
Link Retargeting

Setting Up Retargeting Links

Finding My Website Pixel Code

Retargeting Ads

See also: