A tracking link is used to measure the effectiveness of your marketing campaigns, channels and activities. You should always use a tracking link when you are directing traffic to your website from an outside channel, like email, social media, PPC campaigns, banner ads, and sponsored posts etc.
In the simplest terms, a tracking link is a normal URL with tags appended to the end. These tags - or parameters - can be used to indicate the channel a visitor comes from, the type of content they clicked through from and the campaign this content was part of.

So for example, you might see that someone has clicked through from Facebook, via an organic post which was part of your summer marketing campaign.
This information will be pulled through to Google analytics so you can see precise detail about your traffic sources alongside other analytics on organic traffic and journeys which took place on your site.
You can add UTM tags to the links you share manually, but it's much quicker and easier to use a URL builder. Rebrandly's URL builder allows you to add tracking code with just a couple of clicks - or you can use saved tags.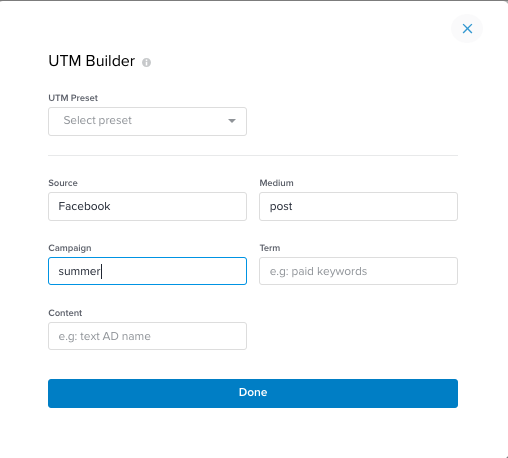 Rebrandly will also create branded links to share so your audience won't see the tracking tags - in this case, they will see https://Rebrandly.Blog/UTM-Tricks

This Article is About:
What is a Tracking Link?
What is a Tracking URL?
Tracking Link Generator
What is a Trackable URL?
See also: