You're free to transfer your custom domains outside Rebrandly at any time, but you cannot transfer a domain from one account of Rebrandly to another account of Rebrandly: this is not natively supported.
If you transfer a domain away from Rebrandly and you decide to continue using our service, you can just follow the procedure described here.
To transfer a domain, start the transfer procedure in your preferred domain provider's dashboard. They will ask you for a "transfer code".
To get a transfer code from Rebrandly follow the steps outlined in the dashboard by clicking the domain you wish to transfer out.
Access the Rebrandly dashboard.
Open the Domains list page.
Find the domain which you would like to transfer, then click on it.

4. click on the Transfer out button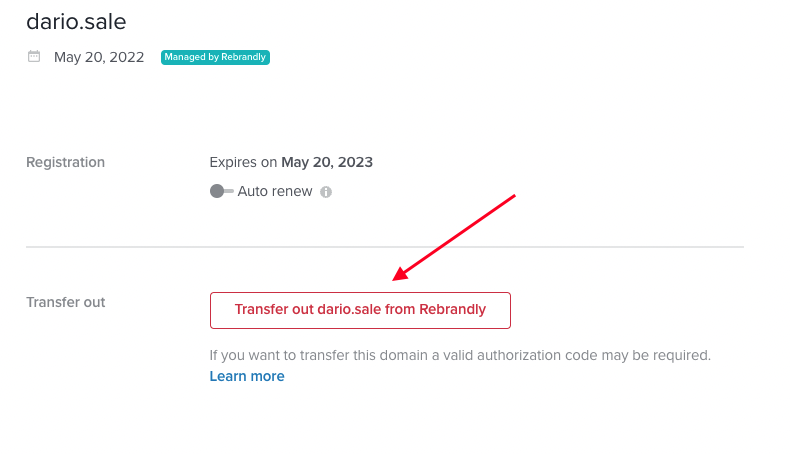 5. Confirm your choice
6. A transfer code will be sent to the e-mail used to register the domain name (WHOIS data). Check also in the SPAM folder, sometimes it is improperly cataloged as spam.
7. If you do not receive the auth code, please contact the support team.
If you wish to purchase domains from Rebrandly with the intention of using them to host main websites you have to set the right choice when you add it to your dashboard, after the purchase process (see here).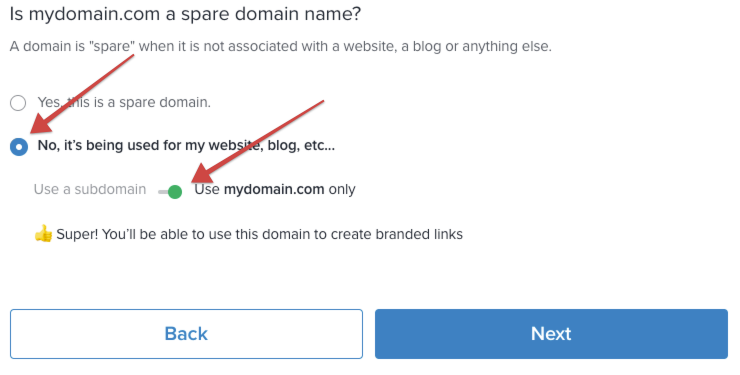 IMPORTANT NOTE:
Once registered, it can take a few days before you will be able to transfer a domain from one domain provider to another. This time varies from TLD to TLD, so pay attention to the fact that once a domain has been registered with Rebrandly you may not be able to immediately move it to another domain provider.
Most domains come with a 60-day transfer lock, so you should check that the domain has been registered from more than 60 days before starting your transferring procedure!
For further help send a request to domains [at] rebrandly.com.
This article is about:
Transferring my Rebrandly-purchased domain

Hosting a website on my URL shortener domain

Changing

the

DNS of a Rebrandly bought domain


Alias domain: use the main website and short Url service with the same domain
See also: