It's easy to create a QR code from a link with Rebrandly
As the application of QR codes becomes more accepted - more and more brands are opting to add QR codes into their marketing efforts. While Bitly previously provided QR codes, they no longer offer the Bitly QR code (Bit.ly QR code) generator feature.
Not to worry, Rebrandly generates a QR code with every link shortened.
Here's how to create a QR code from your short link in the Rebrandly platform:
Step 1: Log in to your Rebrandly account.
Step 2: Go to the link you want to transfer to a QR code and hover over it
Step 3: Click share


Step 4: Click the QR code symbol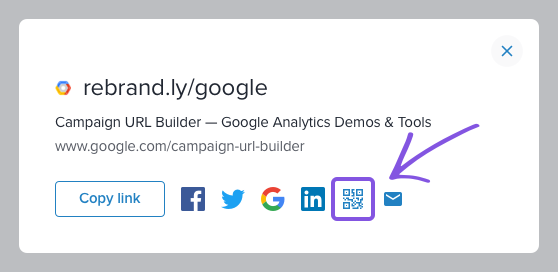 A QR code will be downloaded to your device.
Option 2 - How to create a QR code in Rebrandly
You can also view the QR code for every branded link you create simply by adding .QR to the end of your branded link. You will then get a downloaded version in the .SVG format. Here's how it's done:
Step 1: Add ".QR" to the end of a Rebrandly branded link
Try it out:
Here is the branded link for this article:
rebrandly.support/CreateQRCode
By simply adding ".qr" to the end of this link, you'll download the QR code to this link.
Paste this in your search bar:
rebrandly.support/CreateQRCode.qr
A QR code will automatically start downloading.
To learn more about QR codes check out this article that talks about how to use QR codes to measure marketing efforts.

QR Code Licence and Trademark
QR Code is registered trademark of DENSO WAVE INCORPORATED." This registered trademark applies only for the word "QR Code", and not for the QR Code pattern (image). NO FEES, no licensing contract or specific permission is due to the inventor of the QR code both for personal or commercial usage. More info here: https://www.qrcode.com/en/faq.html#patentH2Title

This Article is About:
How to create QR Codes
Bitly QRcodes
Bitly QRcode
Bit.ly QR code
Bit.ly QR codes
Custom Short URLs
QR codes from Short URLs
QR codes and branded links
See Also: