UTM builder for short URLs and branded links
How to easily generate UTM parameters and include them in customized short and memorable links. 
UTM parameters, tags or labels are snippets of code which are appended to the end of a URL so you can track information about your website's traffic sources. A UTM builder is a tool that allows you to simply and quickly add these snippets of code to your links.
Here's what a link that has UTM parameters set looks in the search bar: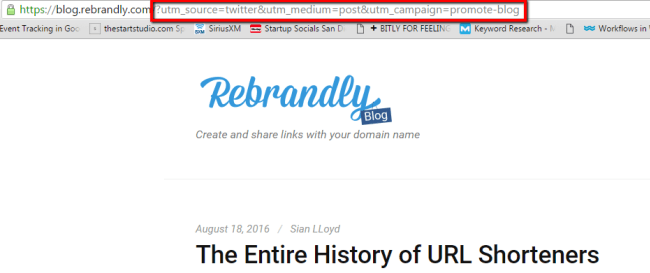 It's important that your tags have a standard format so your analytics are correctly aggregated and recorded in Google Analytics. For example, if you assign a link a source tag entitled 'Facebook' and another the tag 'FB', these will appear as separate sources later on.
A UTM builder allows you to save standard labels to avoid this issue. Here are a couple of URL builders which are useful for marketers.
Rebrandly - a custom URL shortener with advanced features at an unbeatable price. It's UTM builder is intuitive, easy to use and comes as part of the basic paid 'smart' plan. The ability to save presets will help avoid inconsistent tagging. See it in action here.
ClickMeter - an advanced link tracking tool for users who need to go far beyond UTM parameters. Ideal for heavy traffic enterprise marketers and affiliate marketers.
Google URL builder - a free option, which is a great starting point for beginners but lacks advanced features and has a few other downsides associated with it.
Rebrandly's UTM builder offers five UTM parameters for users to choose from. You can fill them all in or leave some out. The option to set UTM presets also makes it quick and easy to fill in your most commonly used tags.
You can find out more about how to use the Rebrandly UTM builder to tag your links in the video below:
This article is about:
UTM builder
URL builders
Campaign URL builder
UTM code builder
UTM link builder
Short URLs UTM builder
google utm builder

utm parameters

utms

utm tracking

utm campaign builder

utmbuilder

utm tag

utm code generator

utm bilder

utm tagging

params

sources
See also: