Rebrandly's link expiration feature lets you set a custom expiry date on links at a workspace level.
With link expiration, you can avoid reaching your account limit or being charged an over-quota fee* for any links created outside of your plan volumes by keeping your workspaces free of links you no longer need.
How it works
In your workspace settings, you'll see the option to set a custom expiry date for any new links created in that workspace. Existing links created prior to the expiry date being set will not be affected by this change.
For example: If you have a workspace containing links of sales proposals and these become outdated at the end of every month, you can set a rule that moving forward, any link created in that workspace will expire after 30 days**.
How to set a custom link expiration date
1. From your dashboard, navigate to your workspaces.

2. Select the workspace you'd like to set a link expiration rule for. Once the workspace settings are open, click on 'Links never expire'.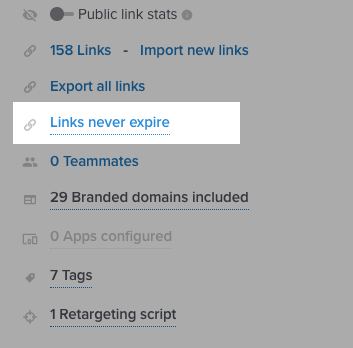 3. Once you click into the settings of this feature, you'll be shown the below list of link expiry options: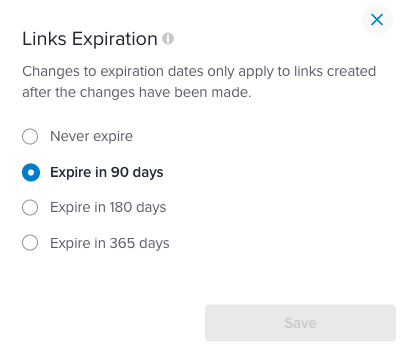 4. Choose a time period after which any new links created in that workspace will be deleted. All workspaces and the links they contain are set to never expire by default.
You can set different expiry periods for each workspace associated with your account, and any expiry rules set can be enabled or disabled in a workspace at any time.
If the link expiry rule is disabled in a workspace, any links already scheduled to be deleted will not be affected by this change and will be deleted on the scheduled date. The link expiry date can be removed manually from any link by accessing the individual link's settings.
Link expiration is a paid feature and may not be available with all subscriptions. If you'd like to add link expiration to your plan, get in touch on Rebrandly.Support/Contact
* If your account has already reached its limit or is subject to over-quota charges, the activation of the link expiration feature will not help to minimize the current account volumes, as only links created after the feature is activated will be affected.
** Links will be deleted no later than 7 days after the expiration date has elapsed.
This Article is About:
Link expiration
Terminate links
Expire links
URL expiration
See Also