We are pleased to Welcome .CLOUD to the Branded Links Community.
We caught up with Francesco Cetraro, Head of Registry Operations, to find out a bit more about why they're using branded links for .CLOUD.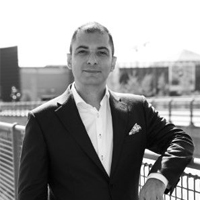 So Francesco, what do you do?
My name is Francesco Cetraro, and I manage the Registry for the new Top-Level Domain .CLOUD.
What makes .CLOUD special?
.CLOUD was launched just 8 months ago and has been one of the best performing new extensions on the market, with over 70000 domains sold so far in over 140 countries. A central point of our message in promoting .cloud is "look at the opportunity" that new domain extensions give website owners to leverage the power of a relevant extension and use URLs creatively to communicate their story. 
Why did you start using a branded link shortener?
We wanted a way to track and analyze traffic coming from different sources, and we wanted to have full control over it so that it would fit our overall brand identity. The ability to fully customize our links also helps us make them more visible and ultimately makes us look more professional.
What made you choose .CLOUD as your domain extension?
Considering we sell .cloud domains, it felt quite right to opt for our own extension!
What are you mostly using your branded links for?
We often post the same links on different channels and social media. Branded links are a great way to keep track of how various channels perform, or also quite simply to share longer URLs in a more user-friendly way.
What is one thing you like about our tool?
It's very easy to set up, and also to integrate across various tools we already use. The integration with ClickMeter makes it very simple to get a quick overview of how the various links are performing.
More about .CLOUD
Cloud computing is driving rapid innovation and has changed the way both businesses and consumers interact. Beyond "cloud computing", the concept of Cloud has become a familiar part of everyday life and is a term that is recognized worldwide. Today the launch of the .cloud domain offers new opportunities for businesses, individuals, innovators to express themselves and tell their stories to the world. Whether you are a Cloud provider, a Software developer, a Startup or you simply feel that a .cloud domain can help you give a new interesting spin to how you tell your story online, you are welcome to join in!

Find them here:
get.cloud
@getdotcloud