New App Helps Job Seekers Market Themselves
There are thousands of jobs up for grabs in San Diego County. Just look on any jobs site. The trick is getting your name in front of the right people. A just-released App called Rebrandly can help do just that... Watch this video and read more here.

10 Tools Every Marketer Should Know About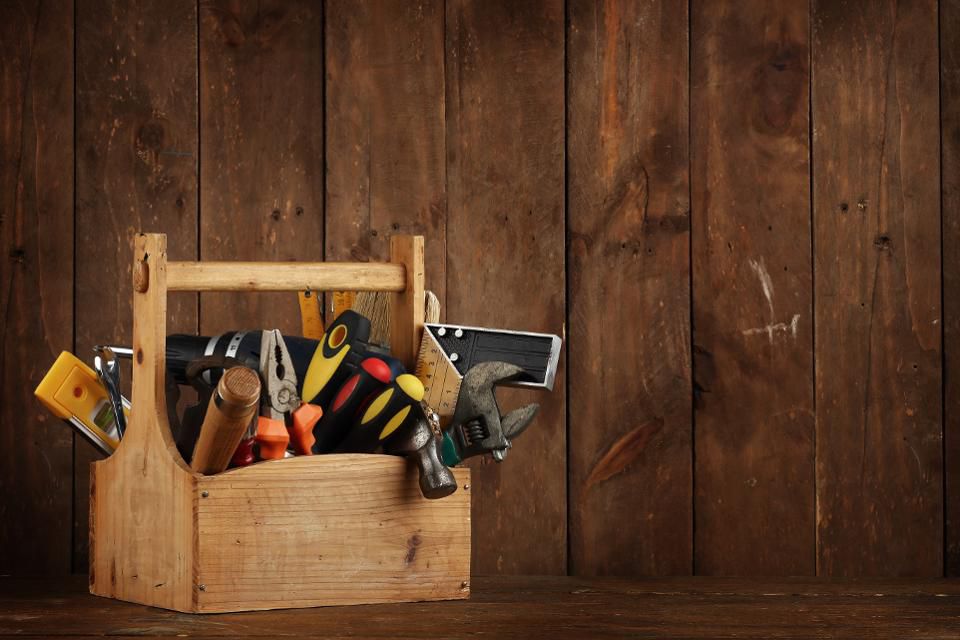 Marketing expert, Steve Olenski, includes our tool in this list and explains how Rebrandly preserves your brand, while other URL shorteners "destroy your domain identity" to create ambiguous links that customers distrust. Read More

Could Growth Hacking be the Low-Cost Key to Business Success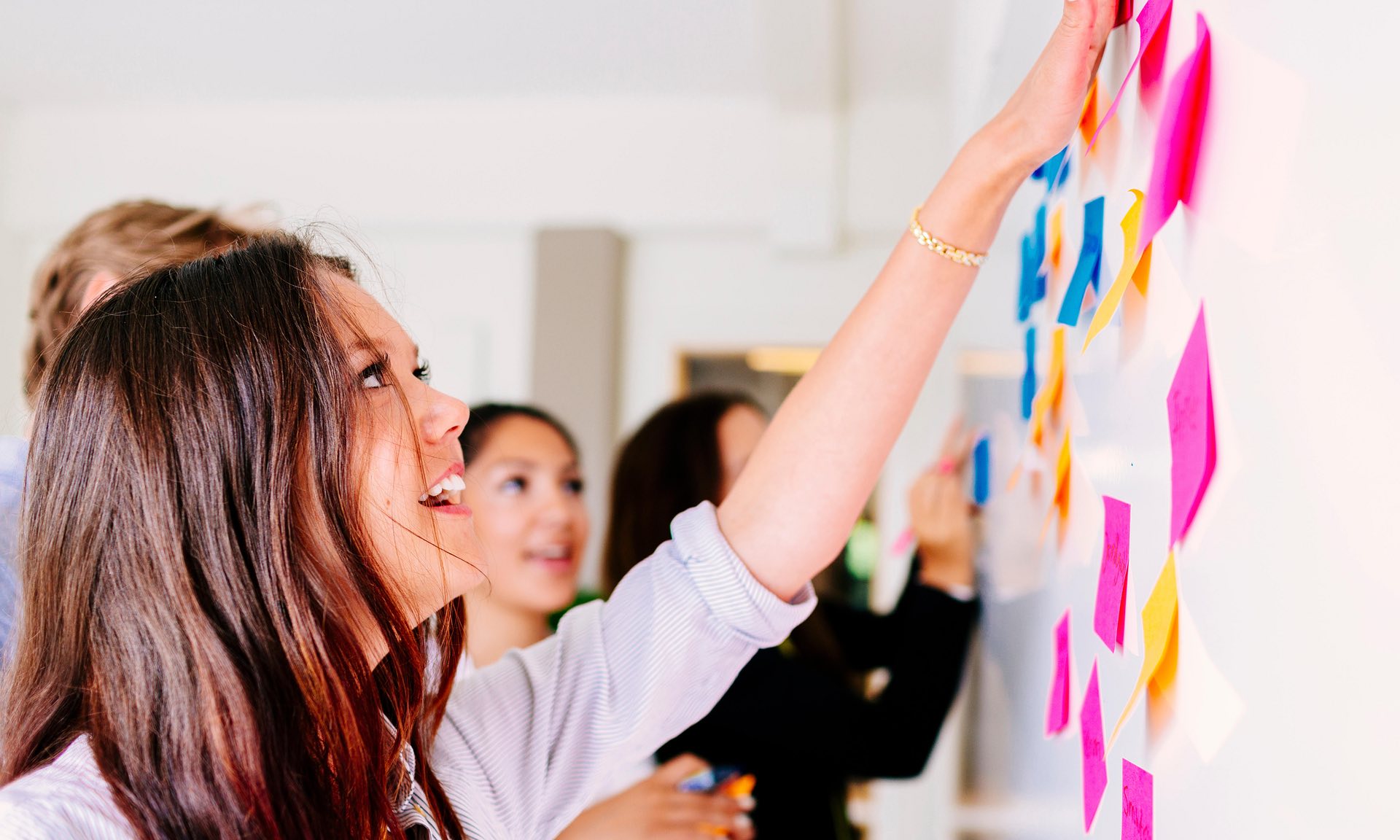 In an article in The Guardian, Growth Tribe tells readers about growth hacking and how they use Rebrandly to target past talk attendees with advertisements. Read more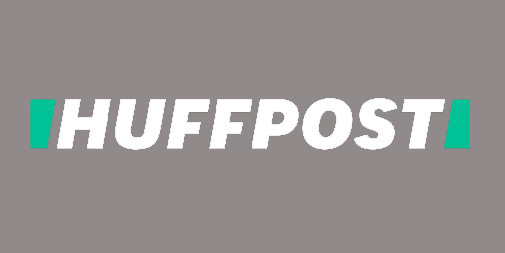 Branded Links: A Novel Way to Showcase Your Brand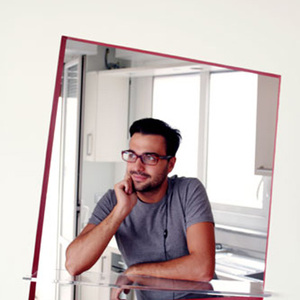 In the Huffington post, Federico Schiano di Pepe writes about the benefits of using branded links with Rebrandly. Read More

Will Twitter's 280-Character Limit Change How Marketers Tweet? 12 Pros Weigh In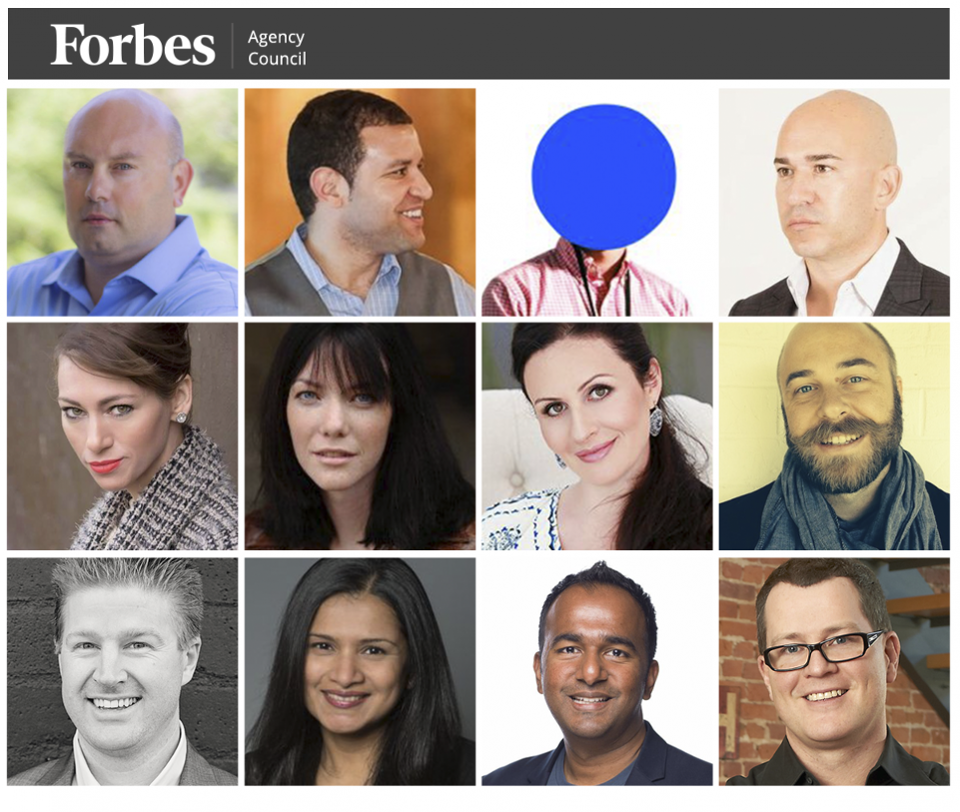 Founder of Foundry512 and member of the Forbes Agency Council, Aaron Henry, suggested that Twitter's high character limit will encourage marketers to choose branded links over generic, shortened URLs. Read More

Going From A Great Product to the Best Product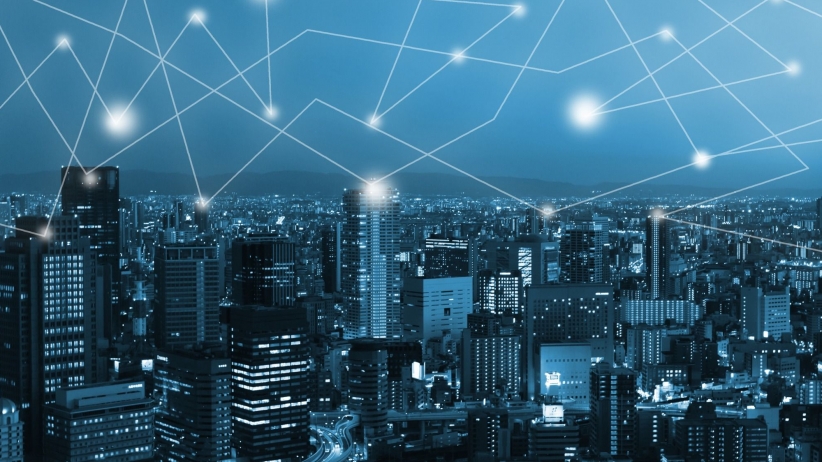 Entrepreneur Magazine interviewed our founder, Davide De Guz, on his entrepreneurial success with ClickMeter and his inspiration for creating Rebrandly. Read More

The easiest way to create and share short links with your domain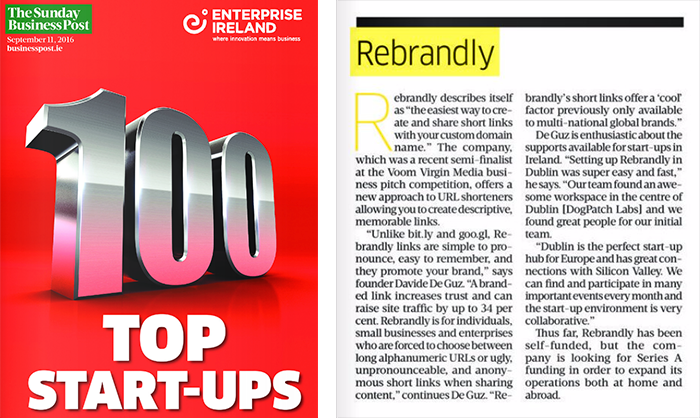 2016: Irish newspaper The Sunday Business Post, in collaboration with Enterprise Ireland, includes us in the Top 100 Irish Startups. Read more.

100 Hot Start-Ups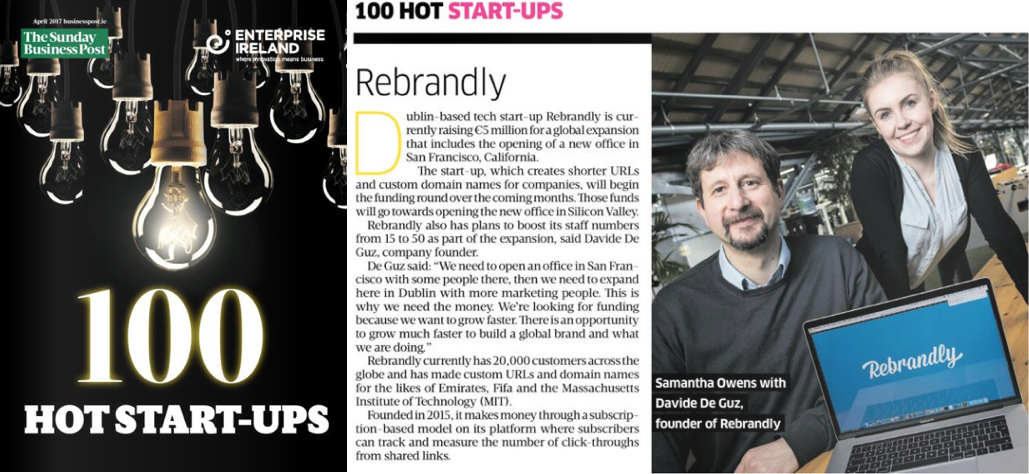 2017: For the second consecutive year, Rebrandly has been named in Enterprise Ireland Top 100 Irish Startups published in the Sunday Business Post. Read more.

Rebrandly to double its staff ahead of US move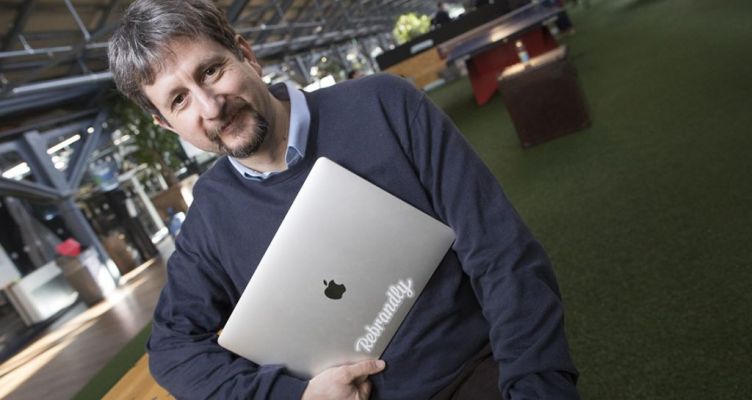 2018: Rebrandly's plans for growth and expansion were featured in the Sunday Business Post. Read more.


Rebrandly: The Next Generation URL Shortener App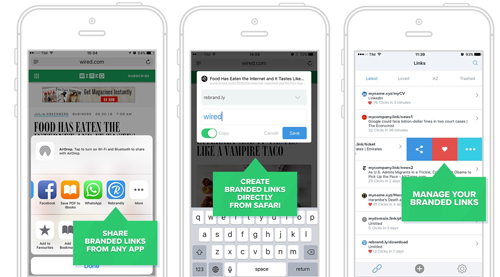 Rebrandly, a service that allows you to create and share unlimited branded links, is helping Digital Marketers and Brands improve their messaging, increase traffic, and track their efforts... Read more.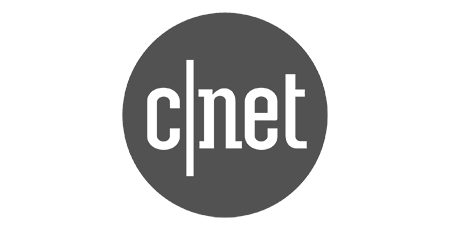 10 Tips To Avoid Hiring The Mistake Of The Century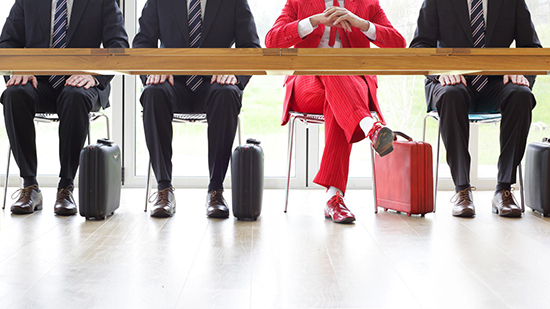 We've learned to make decisions on hiring a bit more slowly, and put a lot more effort into understanding the candidate's true motivations than to be overly excited by a kickass interview. Read more 



Why New Domains are an Awesome Pick for Branded Links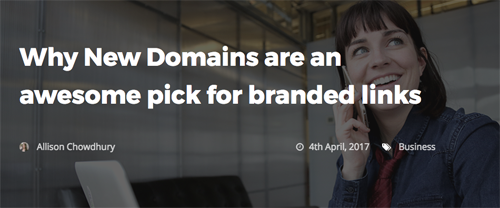 Rebrandly team up with name.com to answer, why are so many people turning to New Domains while creating Branded Links rather than using generic URL shorteners? Read More

How to Build Brand Recognition one Link at a Time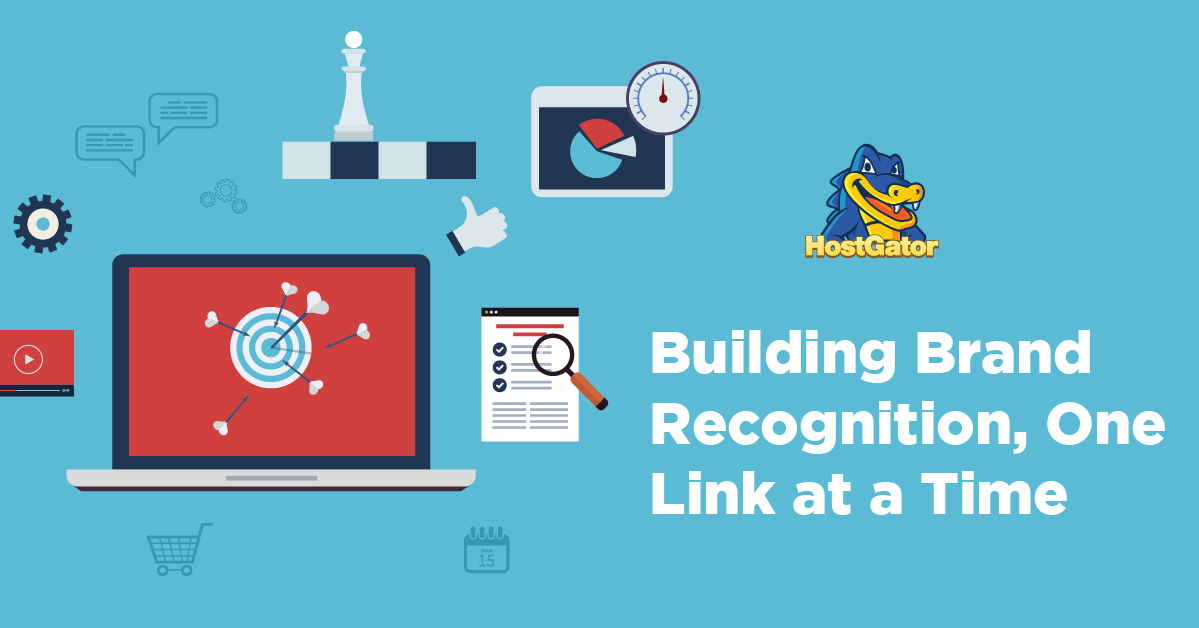 Each link you share offers useful or entertaining information, but each non-branded link you share also pulls users' focus away from your brand. This can happen when the link is a long URL that includes the original source domain. Read More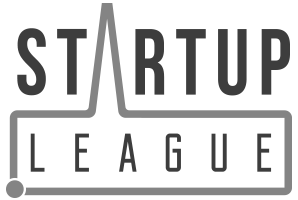 Branded Links for Startup Marketing
Davide De Guz is the founder at Rebrandly and CEO at ClickMeter. he has more than 20 years of experience in the Internet business as an entrepreneur and top consultant. He is the author of many articles regarding the internet and new technologies. Read More
21 Google Chrome Extensions for Growth Hackers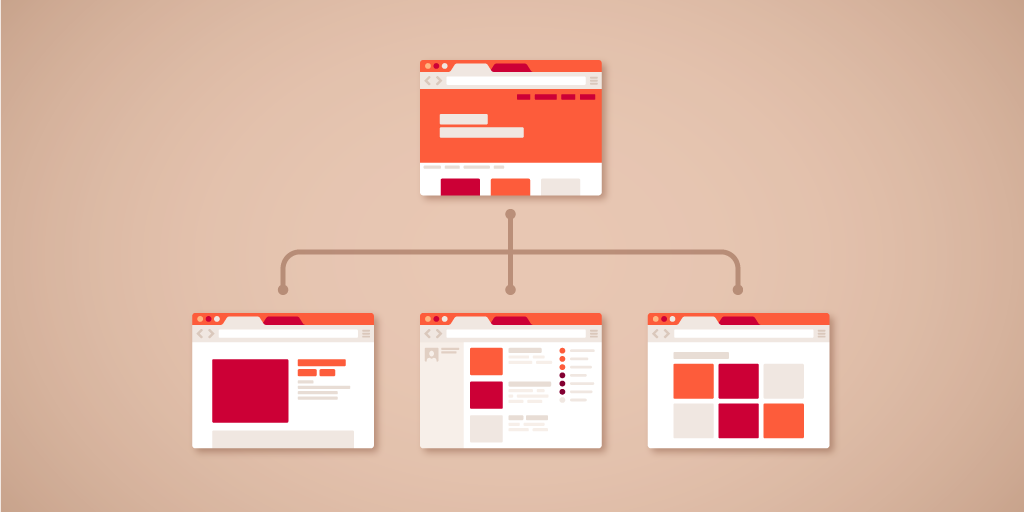 Rebrandly is the fastest way to create branded links when sharing an URL. This helps make your links more memorable and pronounceable. For example, rather than using Meetup's ridiculously long links in my email to promote an event. Read More

Rebrandly is one of the 20 Best New Social Media Tools to Try in 2017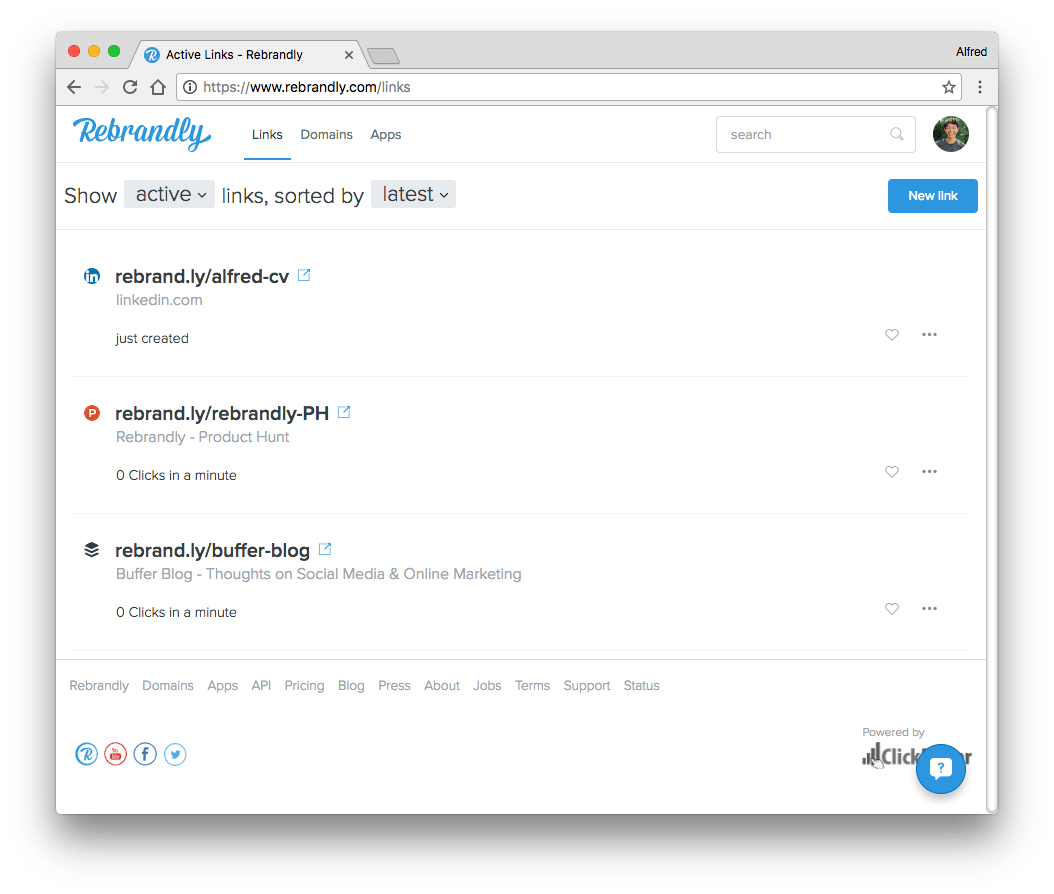 Rebrandly is a custom URL shortener for sharing branded links. You can turn long, complex URL into branded and memorable ones. Read more. 



New App: Create and Share Custom Short URLs with Rebrandly
Zapier has integrated with Rebrandly, as a result of this integration, users can now use their branded links with hundreds of other apps creating, sharing and tracking links. Read More



Our 13 Favorite Social Media Marketing Tools for Agencies
"This tool is great for sharing and tracking links, which is, of course, crucial to proving ROI to the client. They allow you to easily append UTM parameters to the end of links, and most importantly, you can add link retargeting, which is huge for anyone running retargeting ads (and everyone should be running retargeting ads)" Rebrandly.rocks/Mention

Increase your holiday sales with deep-linking!
E-commerce software provider, PrestaShop, featured Rebrandly on its French Blog when talking about building link trust and encouraging customers to click on links.
They said: "Utilisez un outil tel que Rebrandly pour créer un renforcement positif de votre marque avec chaque impression de médias sociaux."
In English, this translates to: "Use a tool like Rebrandly to create positive reinforcement of your brand with every social media impression." Read more.

Rebrandly: API Godai: 5 Elements of an Amazing API
Our CTO explain the best practices to build API for your app. 
It includes our experience in building API for Custom URL Shortener

How Rebrandly views the current & future role of Microservices
In the future, companies will offer Microservices as a Service so apps can run continuously. Our CTO, Gianni Fiore, shared his thoughts on the current and future state of microservices with Tom Smith of DZone. Read More


URL Shortener in Social Media Marketing
Rebrandly is the easiest way to create and share shortened links with a custom domain name. You can signup, register your domain name (starting from $2/year) and start shortening your links with your brand. Rebrandly lets you use unlimited domains, create unlimited links, count the clicks, retarget your links, forward parameters and add UTM codes. Differently, from most URL shorteners you can edit the branded links anytime after you created them. Rebrandly.rocks/SocialPilot


Rebrandly: The URL shortening service that was missing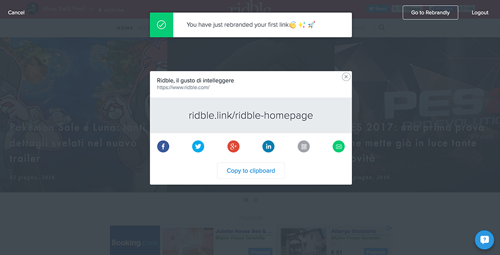 Italian Publication:
All my wishes have been fulfilled thanks to Rebrandly, now I can not do more for less... Read more.


Rebrandly, URL for all tastes
Italian Publication:
This year at Codemotion Rome we met Davide De Guz from Rebrandly, an Irish company that provides Branded URLs. Find out what makes this URL Shortener one of the best... Watch the video and read more here.


Rebrandly Launch: WebSummit 2015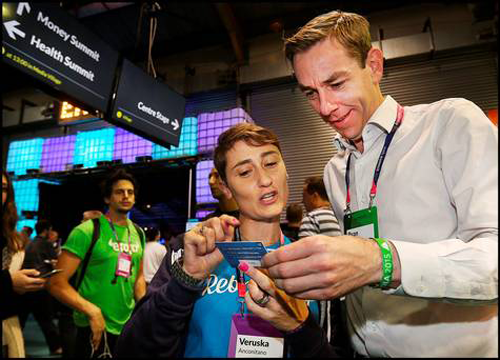 Above: Ryan Tubridy chats to Rebrandly at the Web Summit in Dublin.
Photo Credit: Steve Humphreys

Rebrandly to Raise €5m for Office in the Valley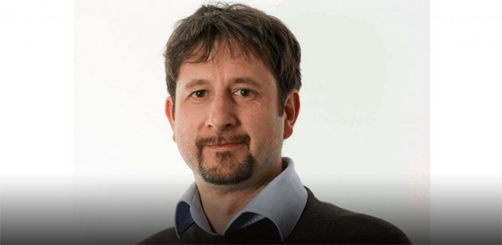 Dublin-based start-up offering customized domain names aims for €5m in funding and expects to add 35 staff across California and Irish Offices. Read more
For more information: