This article will teach you how to use the Rebrandly UTM Builder. UTM (Urchin Traffic Monitor) parameters are short snippets of code which are added to the end of a URL to help you track information about where someone came from - the referring domain - and what they clicked on to bring them there.
Adding UTM parameters to the links you share will help you to understand where your traffic is coming from, what messages are working, and tie it to which site visitors are provided the greatest value to your company. Once appended to a URL, the UTM parameters will help you sort out your stats in Google Analytics, or whatever tool you are using to measure your digital marketing and website performance.  
The following example is how you will want to be using the Rebrandly UTM Builder to recognize the above benefits:
Note: In this example, we are using the Rebrandly Chrome Extension. However, the process will be nearly identical when branding a link using any of the other Rebrandly browser extensions, or directly from the Rebrandly website. For a visualization of the entire process, you will find a short video and a photo below these steps which you can refer to as you go through each. 
When you're ready to brand a link, click on the Rebrandly Chrome Extension.


Click on the "UTM" button to access the UTM Builder.


Fill out your UTM parameters or select from your most common presets.




Note: There are five UTM parameters you have to choose from in the Rebrandly UTM Builder. You can choose to either fill them all out, or to leave any or all blank. In this example, we are using the three main UTM parameters: Source, Medium, and Campaign.

Here are details on how and when to use each of the three main UTM parameters:

Source: This is the place where people are coming from. Use this to represent where you will be posting the link. Always use a lowercase version of the domain. For example: "twitter" or "facebook"

Medium: This is the type of post you are sharing. For example, "post" as a generic answer, or "blog-comment" if you are putting this is in the comments of someone else's blog, or "quora-answer" if you are answering a question on Quora.com.

Campaign: This is the large scale effort, or reason, you are creating the branded link. Examples may include "summer-promotion" or "social-media" or "blog-promotion"
 

Add the UTM parameters to your URL / link by clicking on the [Done] button.
 
Then, select your branded domain if you have not yet done so, along with your URL slug / keyword, and save your branded link as usual. 
Here is short video clip demonstrating the process of how to use the Rebrandly UTM Builder: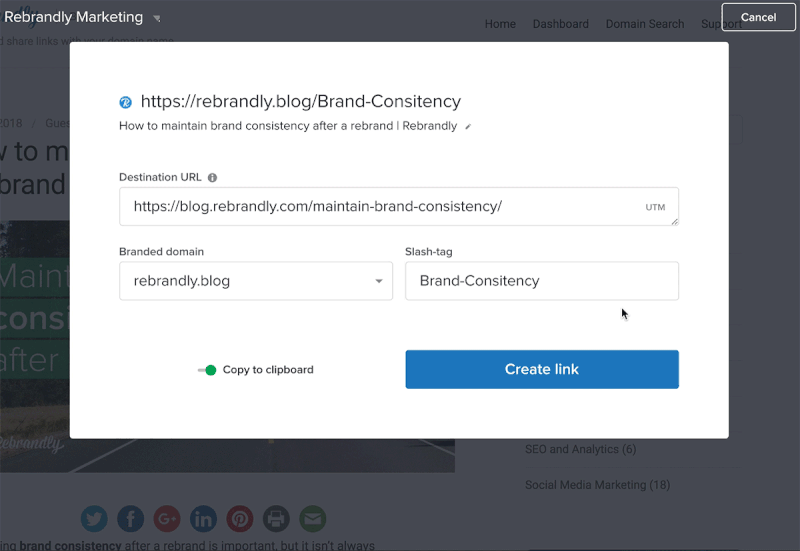 This Article Is About:
How to use the Rebrandly UTM Builder
Why you should use the Rebrandly UTM Builder
UTM parameters and what each of the three main UTM parameters are used for
See Also: