Twitter counts any URL as 23 characters. When you tweet, you don't have to worry about how long your branded domain is.
This is what Twitter says:
"A URL of any length will be altered to 23 characters, even if the link itself is less than 23 characters long. Your character count will reflect this."

So if that's the case, then there's no point in unnecessarily shortening your domains or links so that they're unrecognizable to users. You're already competing for their attention, so why make your own job harder?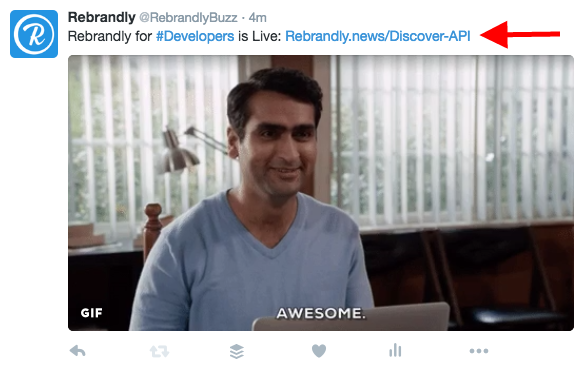 Use the Full Brand Name
If you're thinking of a domain and your name is Acme Tires, don't do this:  
Instead, do this:  
Using your full brand instead of a short version of it makes the link more communicative, memorable, pronounceable and trusted because people know your brand and (hopefully) already trust you.
This increases the CTR% (Click Through Rate up to 39%). It means that for any 100 times your link is viewed it will be clicked (on average) 39 times more than a generic short link.
The branded domain consists of two different parts:
     a) The Brand (First part)
     b) The TLD (Second part)
You should include your full brand name and a TLD that represents your business as much as possible. 
There are more than 1,000 new TLDs called GTLD out there, so finding one that best represents your business should not be that difficult.  
 
Use a Real Word as the Link Keyword 
And, if you already have a domain and are sharing a link on hubcaps, don't do this:
Instead, just make it full length:  
Or, make it a little bit more benefit-driven, including a Call To Action (CTA) in the link:  
Acme.

Tires

/get-awesome-hubcaps
The Keyword after the slash is important for the link readability and can provide the visitor with additional information on what he will find after he clicks. The slug is also a real keyword, which is very important in SEO (Search Engine Optimization). The most important place where Google and other search engines look to decide how to index your page is in the page URL and in the links that drive traffic to that page.
This Article is About:
Branded Domains in Twitter
How to Shorten Links on Twitter
Best way to use Links in Twitter
See Also: