How to Forward Your Main Domain - TLD - to Another Page or Website.
Domains are treated differently than URLs and you should not be purchasing a domain from Rebrandly for the sole purpose of wanting to redirect that domain to another website. That can be done fairly easily with any domain, thus our product really serves no additional value to you.
Please note that not all websites allow domain redirects to work for them. For example, LinkedIn, Twitter, and Facebook have disabled this feature, which means you cannot redirect your domain to theirs. You will get an error.
Places you can redirect your main domain to:
Your main website.

A downloadable file on the internet such as a slide deck or PDF

A recent blog post on your website.

A Google Doc or Sheet. (The user will require access)

A squeeze page, lead magnet, or log in page.
The most important thing to note when redirecting your main domain is that it is not a pure redirect. Instead the domain is "embedding" the destination address and adding a Rebrandly bar at the bottom. Take a look at an example from one of our users: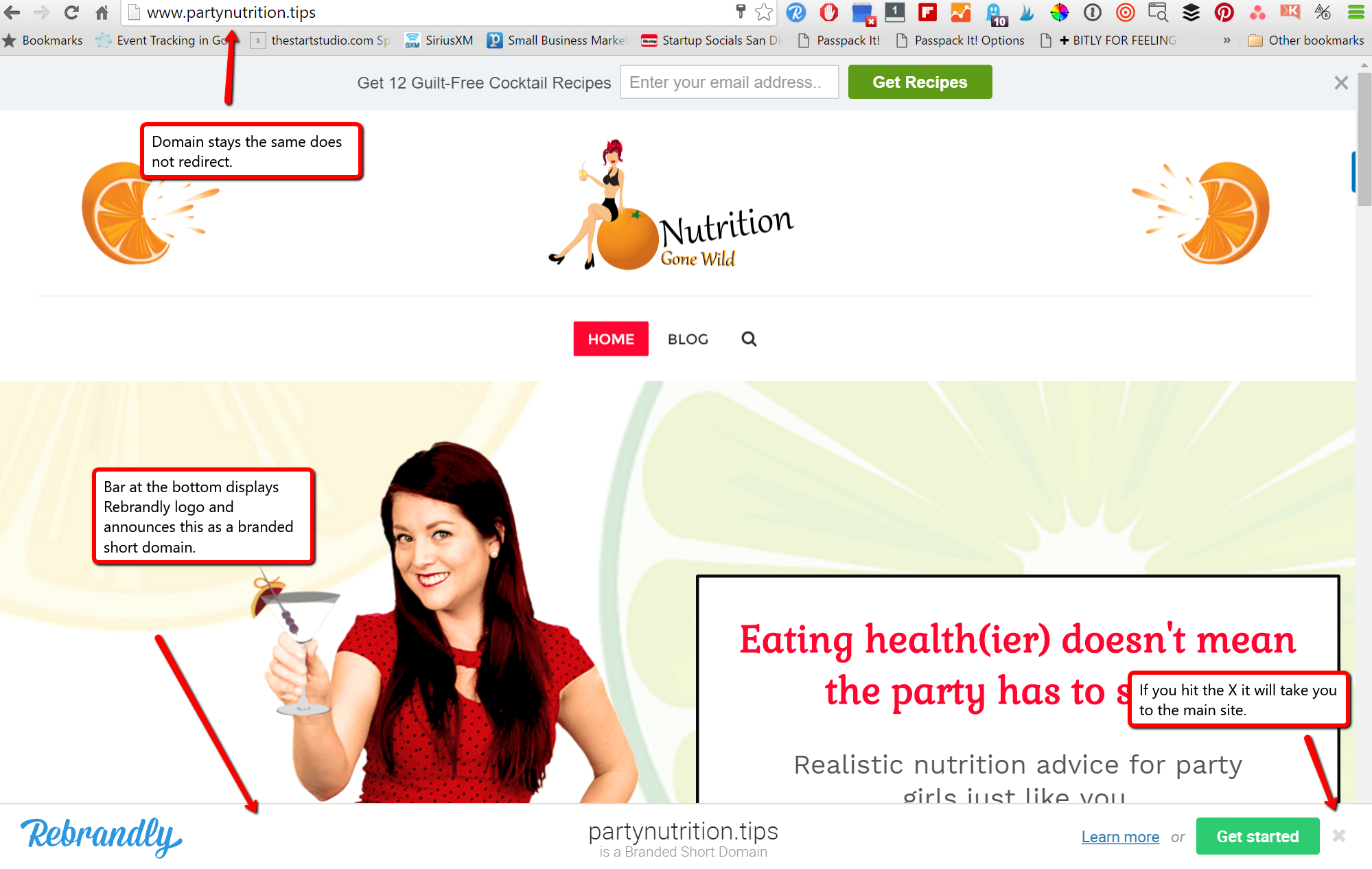 Currently this bar can not be disabled, but it will likely be a feature in the future. This is the only spot that we are embedding a Rebrandly bar in the link. All other URLs from your domain will be automatically redirected.
Please note that at this time if you absolutely need a domain redirect that does not include the Rebrandly bar, then you will need to disconnect your domain from Rebrandly, and then would have to use a subdomain as your URL shortener. For example, if you want mybrand.link to go to mybrand.com without our bar, then you would have to transfer mybrand.link (by sending a request to support) to another domain registrar, then you could set up go.mybrand.link as your URL shortener afterwards.
Set Up Your Main Domain Landing Page
To set up your main domain redirect. Please go to https://app.rebrandly.com/domains, find the domain you would like to change and click on it. And fill in and update the "Landing page" box:

After updating, you will see a "domain details excepted" box and the redirect will be live.
If you see an error box this would typically mean that the location you are trying to redirect to will not accept a domain redirect, and therefore you need to choose a new domain.
This article is about:
Forwarding your domain

Redirecting your main domain to your website

What is the bar at the bottom of my main domain?

Can I turn off the Rebrandly bar for my main domain?
See also: