The Bitly importer is designed to take all of your branded links from Bitly and turn them into legible and memorable links within Rebrandly, without losing the original link or associated data.
Note: This does not import any generic Bitly links. Only branded links.
To use the Bitly importer, please follow these simple steps:
Associate the domain configured in Bitly with Rebrandly, you can find out how to connect a domain you already own here:
https://support.rebrandly.com/hc/en-us/articles/222533148-Connect-a-Domain-I-Already-Own
Wait for your domain to be ready. You'll receive an email from Rebrandly when your domain is correctly configured and the DNS settings are propagated worldwide.

Go to the

Bitly Importer

App page and click "

Import Your Links

:"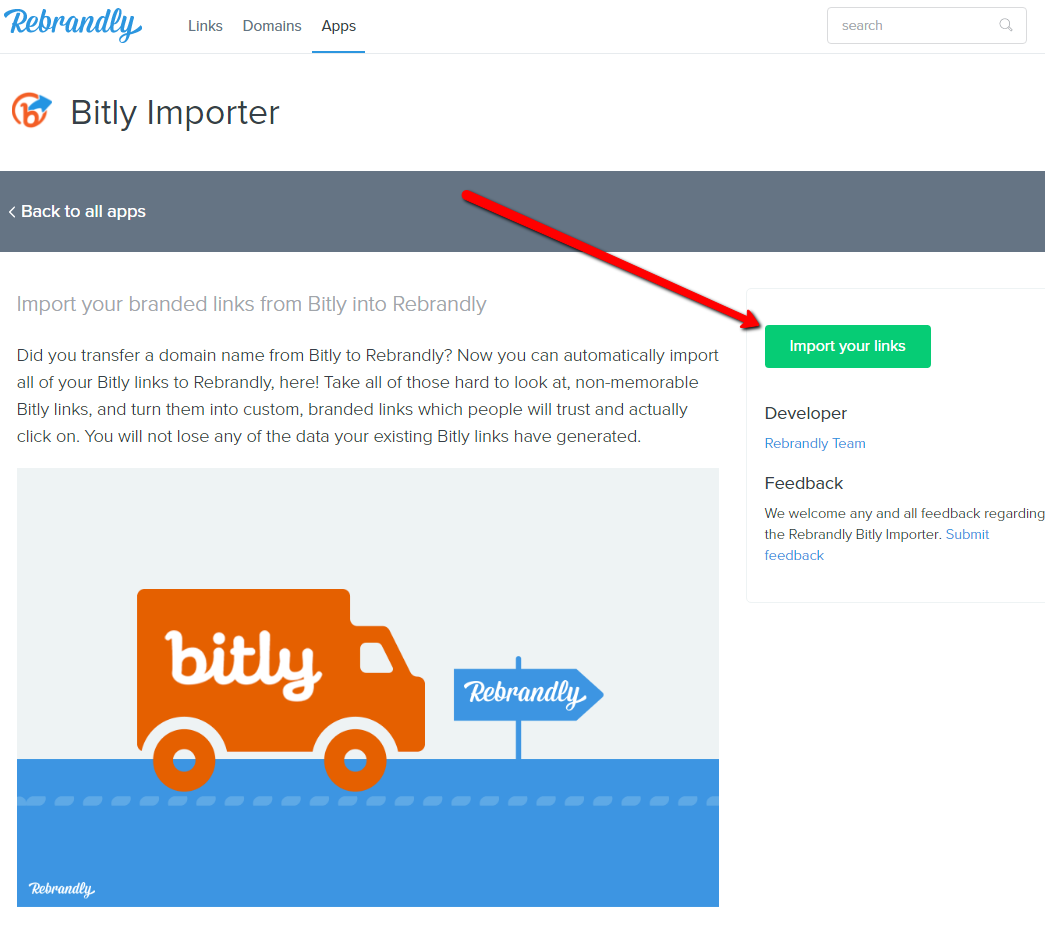 Next, login to your Bitly account and click Allow: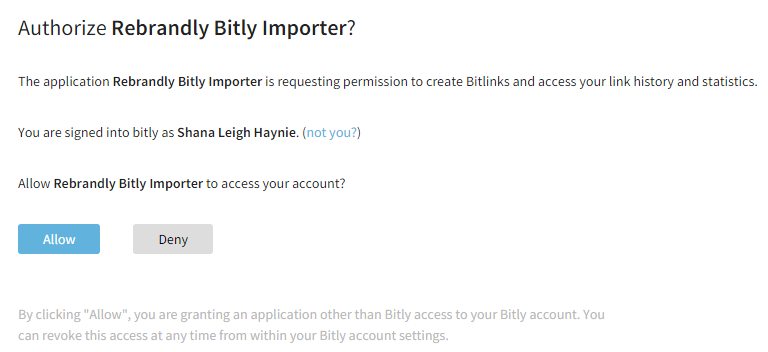 All branded links created in Bitly will now be automatically imported into Rebrandly so that you can customize your URL slugs and even change your destination URLs before publishing.
IMPORTANT:
do NOT remove your custom domain from bitly untill the import process has been completed. 
Why would you want to import your Branded Bitly Links?
To easily "upgrade" your links from static, fixed URL slugs and fixed destination URLs - to dynamic, easy-to-change URL slugs and easy-to-change destination URLs.
To better catalog all of your links under your Rebrandly dashboard.
To easily recreate or update old links with new UTM parameters.
For additional integration options.


This article is about:
Importing Branded Links from Bitly

Connecting Your Bitly Account to Your Rebrandly Account

How to Change Bitly Links
Bitly Importer
IMPORTANT:
Changing the DNS settings of your domain will affect the redirection of your existing Bitly branded links - They only work once the import process is finished.