Your Instagram Profile Bio Link is the only place where you can share a link with your followers.(Aside from stories- if you've got a following of over 10k.) They removed clickable hyperlinks in comments and photo's back in 2012.
If you are delivering new content on a consistent basis, creating a new short link and changing out your Instagram bio link can be annoying.
With Rebrandly, we can avoid this to save you a bit of time and irritation. You'll still have to change out one link, but you won't have to create a new short link or visit Instagram, and you will have all of your stats in one place.
Here's How it Works:

Create a "Master Link" for Instagram.
Grab your latest blog post and create a short link under your branded domain that reads something to the effect of "mybrand.link/IG-Get-My-Latest-Blog-Post
Since Instagram limits your bio space, you can actually use the short link to double as your call to action and save the space in the bio for more information on you or your business.

Paste the link into your bio by following these steps:
How to Add or Change the Link In Your Instagram Bio:
Desktop
Log in to your Instagram Account
Click on the "user" icon in the top right corner

Click on "Edit Profile"
Change the "Website" link by pasting in or typing your new link.


Mobile
After logging into your Instagram account, click on your profile image in the bottom right corner.
Click "Edit Your Profile"




Click on "Website" and paste in or type your new URL.


Change where the link "points" each time a new blog post comes out.
Go into your Rebrandly account, in the link list click the "edit" icon:


And then, click on "edit" icon near the destination URL

Change the destination URL: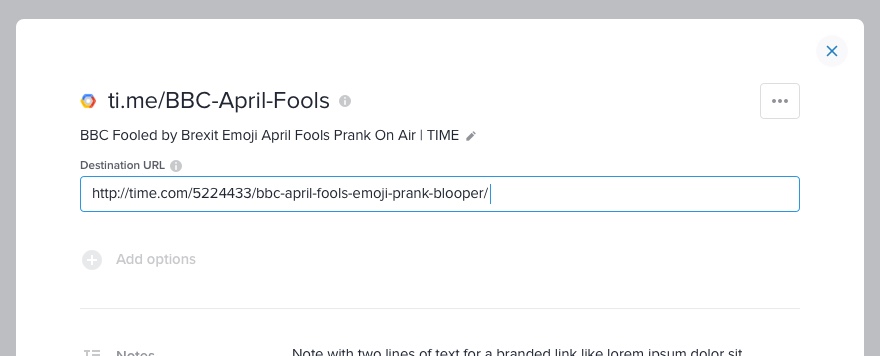 Save Time Connecting Your Instagram Audience
And now you never have to change a link in Instagram again, simply log into your Rebrandly dashboard and swap out the old blog post for the new. You will be able to track all of your Instagram bio clicks through one link.
Bonus: UTM Parameter Tracking
It's helpful to add in UTM parameters to a link such as this one so that you can evaluate how much traffic Instagram is driving to your website.
Simply go to the Google UTM Builder and input your URL, source, medium, and campaign fields. We highly recommend adding UTM tracking to all social links, especially bio links.
This Article is About:
How to Use a Branded Link in Your Instagram Bio
Edit Your Bio Link in Instagram
Brand Instagram Bio Links
Edit Instagram Bio Link
See Also: