What is the Rebrandly Trust Center?
Rebrandly's Trust Center provides access to security, legal and compliance documents to give you peace of mind that your links and your data are handled with the most stringent security standards no matter where you (or your links) live. 

Do I need to log-in to the Trust Center?
Most of the legal, security and privacy information is made available publicly in the Trust Center. You can access it freely without logging in or signing an NDA. 
There are some additional confidential documents which are accessible only by logging into the Trust Center and signing an NDA. For example: 
SOC II reports
Pen test reports
Certificate of Residency 
Confirmation of bank account
Form W-8BEN-E - Certificate of Status of Beneficial Owner for United States Tax Withholding and Reporting (Entities)

How can I access the additional documents in the Rebrandly Trust Center? 
The Rebrandly Trust Center is a user-friendly resource that is quick and easy to access. Our Trust Center is accessible in 3 simple steps:
1. Request access
2. Sign an NDA
3 View and download documents
Request Access
Click the "Request Access" button in the top right-hand corner of the Trust Center: 
Complete your details in the form provided and click on the 'request access' button. 
Sign NDA
Once access is approved, you will be sent an NDA by email to review and sign by DocuSign. This is a standard NDA and no changes can be made.
View and download all documents 
Once the NDA is signed, you will automatically receive an email giving you access to the Trust Center. To download the documents, simply click on the document of your choice.


You can view and download the documents in the right-hand sidebar: 

Note: If you were already granted access, you can reclaim your access as follows:
1. Click on the "Reclaim access" link on the Trust Center page (top right corner).
2. Fill it out with your login email and click on the "Send me the login link" button: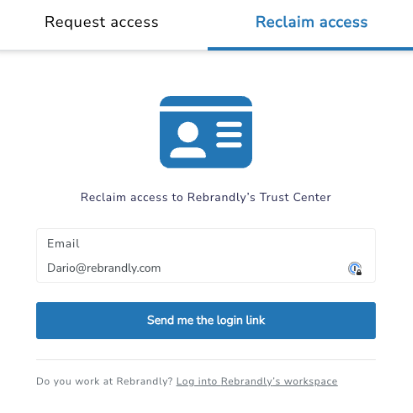 3. You will receive an e-mail. Click on the link to log in again and you will redirected to the Trust Center page
3. For any issue contact our Customer Support Center or write an e-mail to support@rebrandly.com
How do I sign up for updates to Rebrandly's Trust Center? 
To receive emails about updates to Rebrandly's Trust Center, click the "Subscribe" button in the top right corner: 
You will need to complete your email and click on the "Subscribe to updates" button: 
This Article is About:
Rebrandly Trust Center
View info about Rebrandly and download related documents 
SOC 2 Type II and Pen Test reports
Certificate of Residency
Confirmation of Rebrandly bank account
Privacy Policy
Cookie Policy
Terms of Use
Basic Data Privacy and Security Information
See also: