Viraltag is a social media marketing tool for sharing visuals. It allows you to manage multiple social media accounts by scheduling posts, recycling content and analyzing your performance.
Rebrandly fully integrates with Viraltag, allowing you to start sharing posts your branded domain.
1) Login
- Log in to your Viraltag account
2) Access Your Integration Settings
- Click the gear symbol in the bottom left-hand corner of your dashboard.
- Select 'Integrations' on the top navigation bar.
3) Connect Your Rebrandly Account.
- Click connect beside the Rebrandly logo.
- Log into your Rebrandly account on the screen that appears. (Important: If you have more than one Rebrandly account use the one you want to connect to Viraltag. If you don't have a Rebrandly account click signup for free.)
4) Choose Which Custom domain You Would Like to Use.
- Select the drop-down menu beside your name to select the domain you would like to use when sharing posts on Viraltag.
- Click 'update'.
You're ready to start sharing with your custom domain!
Now when you share or schedule a post with Viraltag your URL will be shortened with your custom domain. For example, if I schedule a post like this: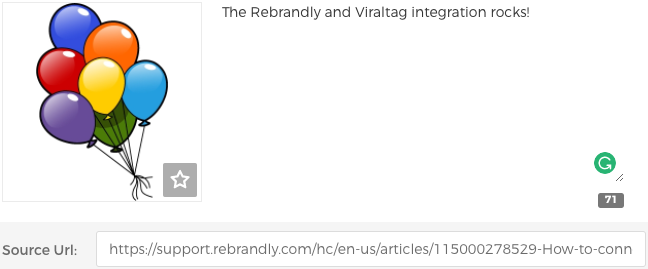 My link will automatically be changed to something like rebrandly.rocks/ad3a.
Using Rebrandly with Viraltag makes sharing branded links on social media easy.
This article is about:
Rebrandly and Viraltag Integration
Social Media Automation and Custom URL Tools.
Customize your URL's on Social Media.
Connect Your Branded Domain to Social Media Posts.
See Also: