How to Create Custom Short URLs for Telegram Messenger
Telegram is a free, cloud-based mobile and desktop messaging app that focuses on security and speed for its users. Now users can share branded links directly in their Telegram messages when using the Chrome web app.
Our Chrome extension makes sharing custom short links as simple as one click, giving you the freedom to customize the links you share with friends and colleagues on Telegram.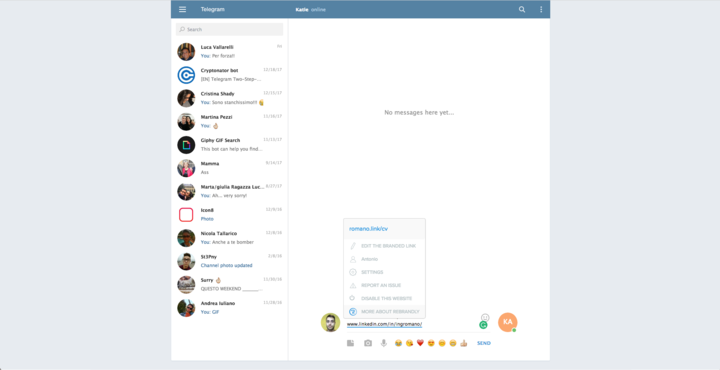 Important: In order to share branded links in your Telegram messages, make sure you've logged in to your Rebrandly account first. 
How it Works:
When you use Google Chrome it's simple and quick to share custom short URLs in Telegram messenger. All you need to do is download the Rebrandly Chrome extension and use the automatic link detection tool. 
This Article is About
Rebrandly and Telegram Messenger Integration
Telegram Messenger URL Shortener
Branded Links for Telegram Messenger
How to Create Custom Short URLs for Telegram
Telegram Vanity URLs
See Also: