How to Create Branded Links for HubSpot 
HubSpot is inbound marketing and sales software that helps companies attract visitors, convert leads, and close customers. Share custom short links inside HubSpot's email marketing tool with Rebrandly. 
In this post, we'll explain how to create branded links using your HubSpot email tool and Rebrandly. Our Chrome extension allows you to create and share branded links with one click, giving you the freedom to share them with your leads and customers.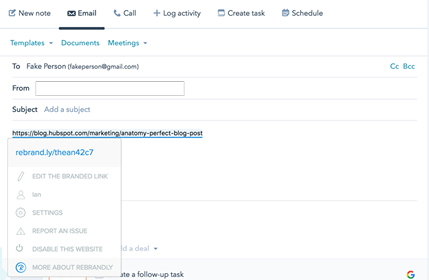 Important: To use vanity URLs in your HubSpot emails, you need to make sure you're logged into your Rebrandly account first. Note that branded links are not compatible with all HubSpot tools quite yet. 
How it Works
If you work with Google Chrome, all you need to do to share branded links with HubSpot is download the Rebrandly Chrome extension. Next, enable the automatic link detection feature and you're all set!


This Article is About
Hubspot URL Shortener
How to Create Vanity URLs for HubSpot
Branded Links for HubSpot
HubSpot Custom Short Links
Hubspot and Rebrandly Integration 
See Also: