If your branded domain supports SSL (https protocol) then you may want to share your custom short URLs (Branded Links) using Https:// and not just with Http://. This will improve the compatibility and trust for your links.
Rebrandly allows you to decide how the links should be copied by default: with http or https. This is a specific domain setting and can be accessed from the domain detail page. Switch it on and every time you share a branded link with that domain from the Rebrandly Dashboard or from the Browse extension it will contain the Https protocol by default.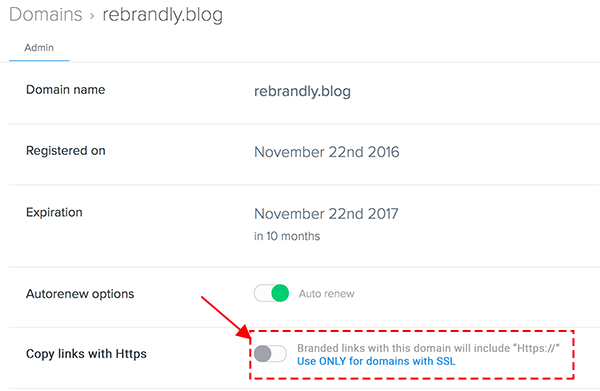 IMPORTANT!!!!!
This setting should be used ONLY if your domain name supports SSL, if you did not setup an SSL certificate for your domain the use of Https will result in a page error. To setup SSL for your domain and branded links read more here. 


This article is about:
https links
SSL domains
SSL Custom Short URLs
Secure custom short urls
Branded links secure SSL Https
Useful to read: