SocialPilot is a social media scheduling and marketing tool for agencies and social media professionals.
SocialPilot is a great tool to automatize your (and your customers) social media sharing. Rebrandly can be natively and easily integrated into your SocialPilot account in order to start sharing with your branded domain(s).


1) Log in
Login in your SocialPilot dashboard (panel.socialpilot.co/login)  
2) Set up URL shortening
Click on Settings > URL Shortening

3) Connect Rebrandly
- Click on the Rebrandly logo
- Login to Rebrandly (Important: If you have more than one Rebrandly account, use the one you want to connect to SocialPilot. If you do not have any Rebrandly account then signup)
4) Connect Your Branded Domain(s) 
You are now ready to assign one or more of the domains you have in Rebrandly to one or more of your SocialPilot accounts:
- Select the account you want to associate (checkbox on the left side) [1]
- Select the domain you want to associate from the dropdown menu. [2]
- You can also add a new domain to Rebrandly and see them in the dropdown [3]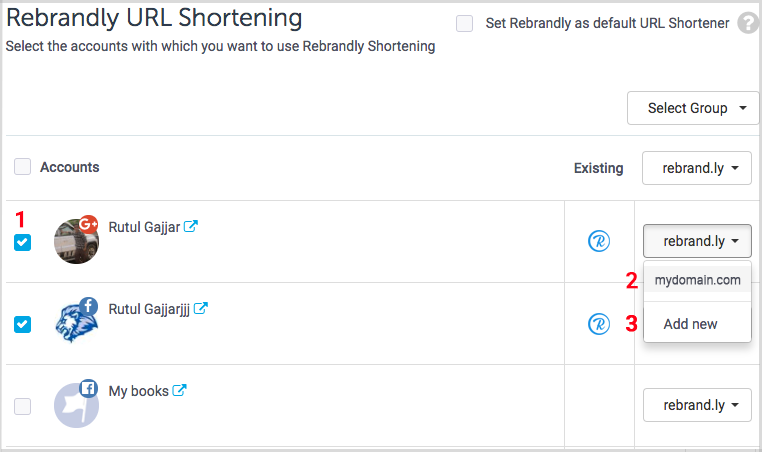 Default URL shortener:
It's a good practice to set Rebrandly as the default URL shortener, it will short all the links in your messages with your branded domain. (Find this option on the top right of the above screenshot).
Now you are ready to go!
With this setup in place when you create a new post in SocialPilot, it will automatically convert the long URLs to your Rebrandly custom short URL. 

     Becomes

Don't forget, you can select any of your custom domains in addition to rebrand.ly.
This article is about:
Rebrandly and SocialPilot Integration
Social Media Automatisation Tools and Custom URL Shorteners
Customize your URLs with your Social Media Tool
Connect your branded domain to your social media posts
See Also: