What changes are being made to subscriptions and pricing?
We're making some important changes to the subscription options and pricing. You can see more information about the current subscription options and find the right plan for you on our pricing page.



Why are these changes being made? 
Due to the global nature of Rebrandly's link management platform, we need to ensure that we have easy-to-understand subscription plans that deliver maximum value for our customers. We are constantly striving to improve our services to delight our customers and we periodically review our subscription plans to ensure they align with our customer's requirements. 


How do I know if these changes impact me as a customer? 
If these changes impact you, you will receive an email suggesting the plan best suited to your link management needs based on your current usage. The change to your subscription will also be shown on your dashboard in the platform. 
When will these changes take effect? 
There will be a phased rollout of these changes. No changes will be made until your next renewal date. Please ensure that you have added rebrandly.com to your contacts whitelist to ensure that it does not get caught by your spam filter. 
What are my options as an existing customer? 
We recommend that you read the email you received as this will set out further details and your options. In general terms, if you do not take any action, your Rebrandly subscription will be automatically updated on your subscription's next renewal date. 
If the recommended plan does not meet your needs, you are welcome to choose another plan before the automatic migration.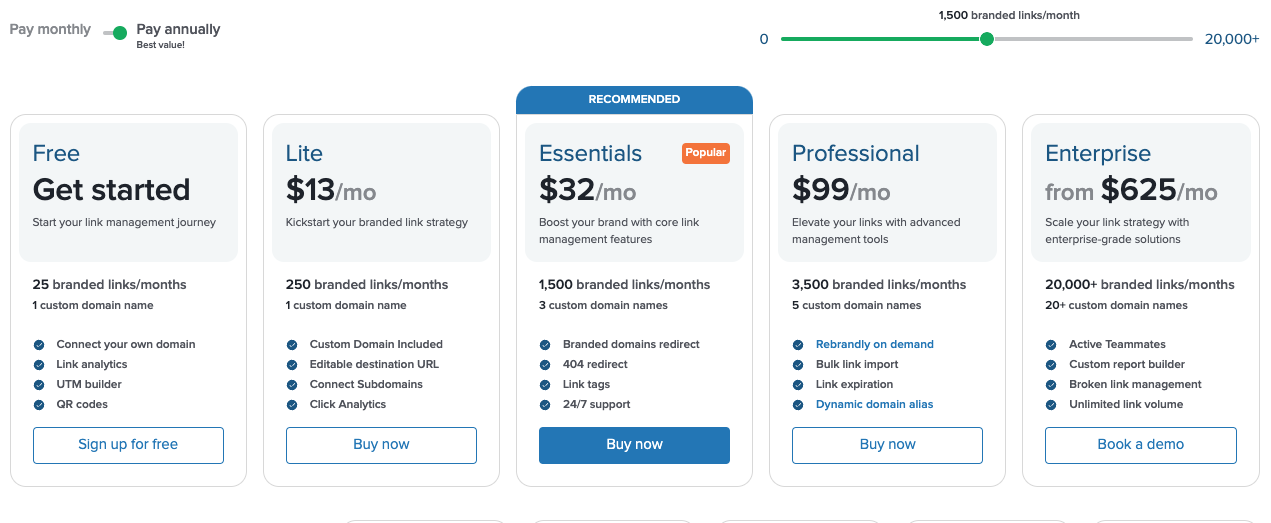 How does the new Branded Links per Month metric work?
Branded links per month metric replaces the old Branded Links lifetime logic.
This is a new metric introduced to measure your usage of the Rebrandly service on a monthly basis. It means that the number of new branded short links you can create during a specific month is based on your subscription plan. This metric allows Rebrandly to offer a more dynamic and flexible approach to link creation, catering to varying usage levels from month to month.

Different Plans:
Rebrandly offers different subscription plans with varying levels of features and benefits. The branded links per month metric differs depending on the plan you're subscribed to:
Free Plan: The free plan has a tight limit to the number of branded links you can create per month. This limit helps Rebrandly manage resources for free users while still providing valuable short-link branding services.


Paid Plans: Paid plans offer higher monthly limits on branded links. These limits might vary based on the specific plan you choose. Higher-tier plans provide more flexibility and a higher monthly allowance for new branded links.
It's important to note that branded links per month are often reset at the beginning of each monthly billing cycle in subscription plans. Unused link allowances cannot be carried over to the next month.
Where can I find my subscription renewal date and current price?
From your Rebrandly dashboard, click on your profile icon in the top right corner, and choose Subscription from the dropdown. Your current plan, price, and next billing date will be listed.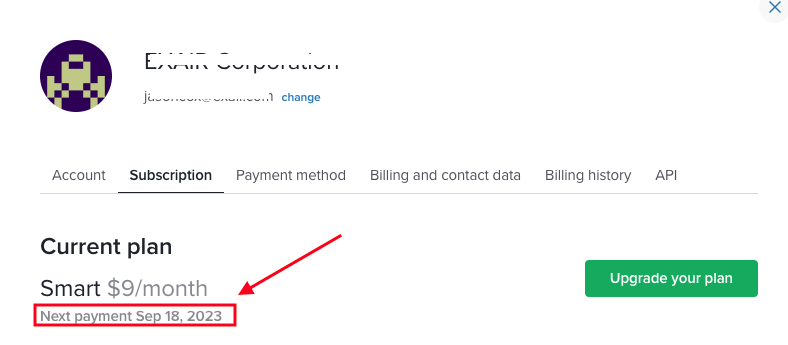 Where can I find my monthly billing cycle renewal date?
Each subscription is tied to a billing cycle. You can easily find the billing cycle renewal date on your dashboard. On the subscription page, in the volumes section, you will find a link: current billing cycle. By hovering over it with the mouse, the renewal date of your cycle will appear.

What is the difference between my subscription renewal date and my billing cycle renewal date?
Usually, these dates coincide but in some cases, they may differ.
The first is a financial concept and is related to the day on which the payment is renewed, the second is a technical aspect of volume usage and is related to the date on which all the monthly volumes are renewed and the counter restarts.
Will my branded links remain active after migration to the new plan?
Yes, all your current branded links will remain active regardless of your chosen plan. New branded links can be added up to your new monthly allowance according to the plan.


Will my branded links always work even if I exceed the click threshold set by the plan?
Yes, your branded links will always be available and will receive unlimited clicks, no matter what plan you choose. There will be no surcharge on new plans.

Note: Rebrandly will track all clicks and produce analytics according to your new monthly plan volume.
Can I delete a domain to choose a cheaper plan?
You can only delete an external domain (not purchased with Rebrandly) from your dashboard. In this case, all links and resources related to that domain will not be available anymore. If you have purchased a domain with Rebrandly you can transfer it out and continue managing your links. See this article for your reference.
If you still need clarification about the most suitable plan, you can contact Rebrandly Support, who will be happy to guide you in the plan that best suits your needs.
What happens to my current teammates and workspaces if the new plan (after downgrade) doesn't include those features anymore?
When a plan with WorkSpaces and Teammate functions active is downgraded to a plan that does not include these functions anymore, no links are deleted and the existing WS continues to exist and maintain its link creation and management functions.
However, you cannot invite other Teammates in addition to the existing ones.


Teammates who were previously active in the WS of the downgraded account can continue to view the links in those WS and manage them, according to the features present in the new plan of the downgraded account, depending on the assigned role (Admin, User, Guest).


Therefore, if an account is downgraded to a Free plan, the teammates related to it will only be able to manage the links (as per the role permission level), but not modify the URL redirection or even manage advanced functions such as tags, deeper links, etc.


NOTE: The features will work in accordance with the plan of the main account (Master account) the team-mates are related to.
What are Rebrandly On Demand Bundles?
Rebrandly On Demand (previously known as "add-ons" or "Flex Plans") is a collection of custom volume bundles available to Pro + and Enterprise-level customers. These on-demand elements are designed to enable "Pay as you go" usage while increasing control, transparency, and value at scale. See this page for your reference.
Who can add Rebrandly On Demand Bundles?
Rebrandly On Demand is available for Rebrandly customers on Pro+ or Enterprise-level plans. Bundles can be added and removed on a monthly basis through your subscription dashboard, at any time after the first 30 days. 
What if I cannot find a suitable plan? 
As a global business with a very large customer base, we need to ensure consistency across our subscription plans to deliver value to our customers. If you aren't able to find a plan that suits your needs please contact our support center or e-mail support@rebrandly.com and we will be happy to assist you.


Does Rebrandly offer a discount for annual plans?
Yes, for the maximum value, you should choose an annual plan instead of a monthly plan. Annual plans offer a 7% saving per annum. In addition, if you miss a payment on a monthly plan, your account and insights will be deactivated after 5 days. On an annual plan, you can rest easy knowing that this won't happen.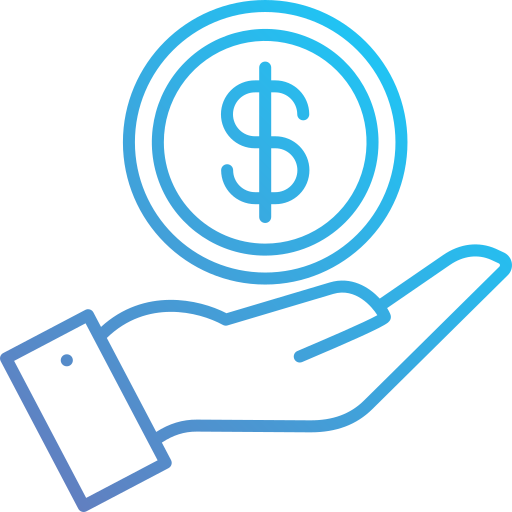 I have been a customer for several years, can I get a discount?
First of all, thank you for trusting us with your links! Rebrandly offers flexible, wide-ranging, and highly competitive subscription options for most use cases and you can save by choosing an annual plan instead of a monthly one.

If you'd like to access more value and explore a multi-year subscription, please contact our Sales team and they will be happy to assist you with the most suitable plan for your needs.